What do you get when you combine delicious chicken breast, tasty mushrooms, and a great deal of marsala wine?
Just one of the greatest Italian-American dishes out there – the famous chicken marsala.
But just as Batman needs Robin, so does every main dish need a great side.
So the question now is:
What to serve with chicken marsala?
From potatoes to rice, from gnocchi to bread rolls, I got you covered.
Let's dive in, shall we?
Mashed Potatoes with Bacon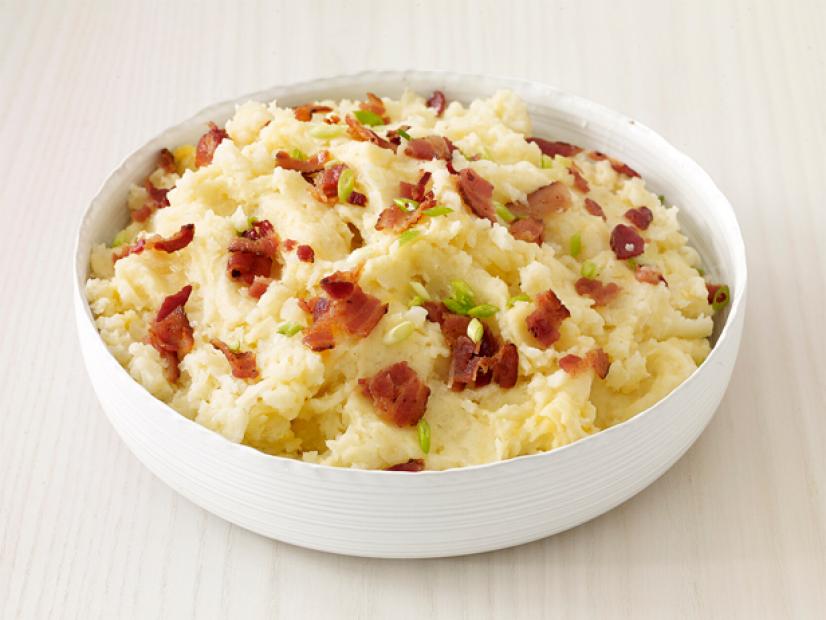 Mashed potatoes are the pack leader when it comes to giving a sauce a platform, and your marsala sauce shouldn't have to compete with big, robust flavors.
The potatoes' creamy but neutral taste is why we put gravy on them, pack them full of cream and cheese, or use them as a base for a beautiful steak. These mashed potatoes are elevated with sharp cheddar, butter, milk, and crisp bacon to add a smokey highlight. 
Put the potatoes on while the marsala sauce reduces and then mash just before serving. Run them through a ricer or food mill for extra creamy potatoes before adding the liquids.
Polenta
In Italy, polenta made from yellow cornmeal is usually served with meaty tomato sauce that cooks all day. However, you can swap it for marsala sauce. It's cheap to make, and you can make it with just cornmeal and water.
It's simple, tasty, and filling.
Polenta makes a great mashed potato alternative, especially if you're looking to stick to Italian dishes.
Choose to serve it plain or make it as luxurious as you like with the addition of cheese or smoked meat like pancetta.
Rice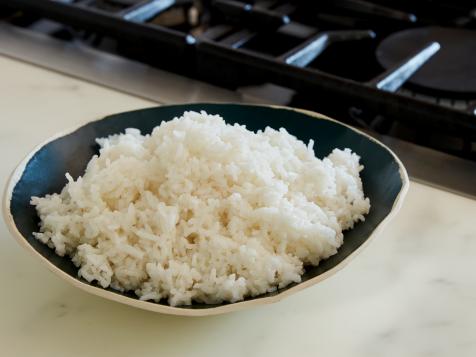 Another member of the side dishes club is white rice, either of the short or long-grain variety. It can help bulk up the sauce by releasing starch into it when the sauce is poured or help to catch every drop before it hits the plate.
Cook rice in a rice cooker if you have one, so you don't have to stay near the stove or use one of the methods linked above.
In addition to white rice, there are various other available rice types. Brown rice adds more depth of flavor and is a healthy alternative to white rice.
Wild rice adds a nutty and savory note that will compliment the dish beautifully.
Finally, jasmine rice will add a scent and floral quality that can help to elevate the dish.
Follow the step-by-step instructions here.
Couscous
This North African dish that dates back in cookbooks as far as the 13th century is made of tiny granules of rolled semolina, a type of wheat. Couscous looks like rice but is technically pasta even if it doesn't taste like a noodle.
It's quick to prepare, usually only requiring boiling water or stock, and can accompany a variety of dishes either served hot or cold.
The only limit to the flavor combinations is your imagination. You can spruce it up any way you like or leave it plain.
While plain couscous can be bland, you can let the juices from the chicken cutlet and the marsala sauce soak into it to give it a punch of flavor.
Orzo Pasta with Tomatoes, Basil, and Parmesan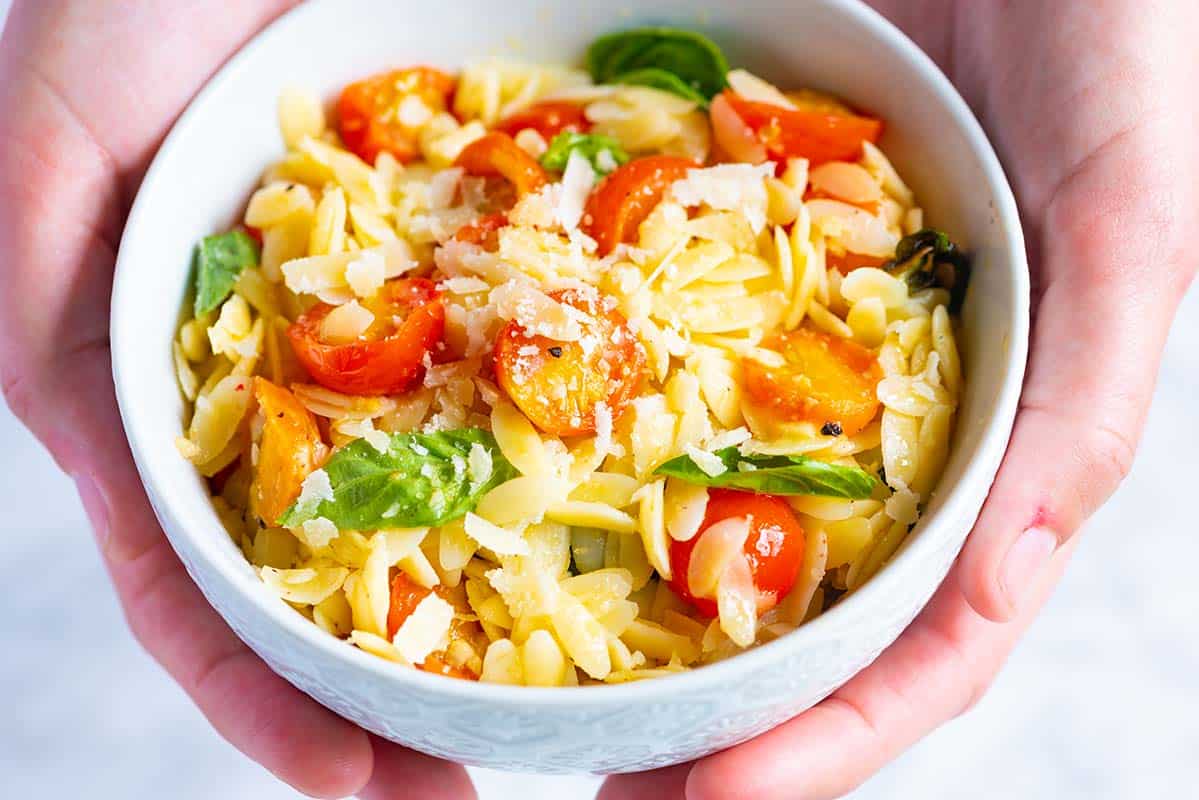 This orzo pasta dish is so easy and so customizable that you'll wonder why you haven't been adding it to all your meals.
Are you gluten-free? Fret not – you could easily substitute rice or gluten-free pasta instead of orzo and still have a great dish.
You can check out the recipe here.
Roasted Vegetables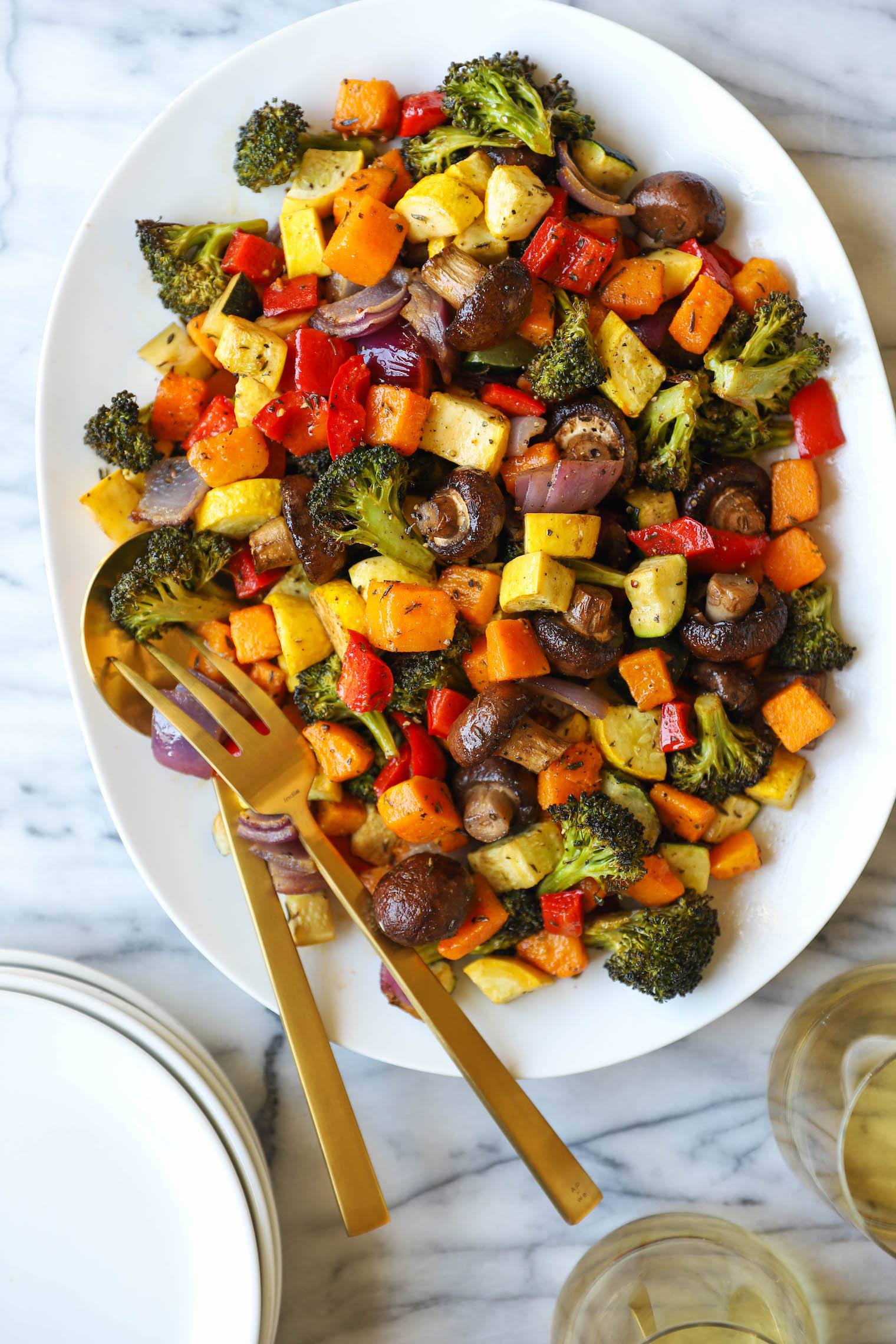 Want to add vegetables to your chicken to make a well-balanced meal but aren't sure which ones?
Don't want to spend a lot of time dealing with the vegetables?
Roasting vegetables is an easy way to cook vegetables and bring out their natural sweetness while eliminating some of the bitter notes leafy greens can have.
Strong vegetables like broccoli, cauliflower, and bell peppers do well in hot ovens as they can caramelize and soften without breaking down too far and becoming mushy.
Roasting is also a great way to use up the small amounts of vegetables you have in the fridge from dinners past. Cut them into equal-sized pieces and put them together on a sheet tray with olive oil.
Make the perfect roasted veggies with this recipe.
Gnocchi
Another Italian addition, gnocchi, are pillowy little parcels made with flour, egg, and potato, then boiled or pan-fried.
Boiled, they will be soft and soak up the sauce and pan-fried they hold their own with a crisp outer crust.
Making them taste a little practice, but it's a recipe that the whole family can do together. They are a great way to get kids involved with making dinner and freeze well.
They love a good sauce on the plate, and they won't overpower the chicken or any vegetables you have with it.
Check out this delicious gnocchi recipe.
Sauteed Brussel Sprouts
Don't be afraid of these miniature vegetables. With the correct cooking method, Brussel sprouts aren't the same as the bitter ones from your childhood.
These are firm and almost meaty with no bitterness and deep, rich caramelized outside.
Paired with pine nuts or bacon accents and a balsamic reduction drizzled over the top, they can stand up to the chicken without taking over.
Parmesan Roasted Asparagus
Vegetables always taste better roasted, although asparagus will still taste great when it's pan-fried in butter or oil. Roasting them quickly on high heat with garlic and parmesan is even better.
Asparagus adds another texture to the meal and is rich in folic acid and many other essential vitamins and minerals.
Risotto
A gourmet classic, risotto is often thought to be a restaurant-only dish, but it's just rice and chicken broth with a bit of technique sprinkled in.
When it's made correctly, you'll have a side dish and base for your chicken marsala that will add another layer by giving it a creamy texture.
Add parmesan cheese to finish the risotto or a spoonful of creme fraiche for even more creaminess.
Bread Rolls
Yes, you can buy rolls in a store.
But if you're going to the trouble of making chicken marsala, it might be worth the extra cook time to make proper rolls to soak up all that sauce.
These soft rolls can be served either at room temperature or warm from the oven.
They are delicious topped with butter or broken into pieces and used to get the last of the sauce your fork keeps missing.
Pile leftover chicken on them for great late-night snacks or quick lunch for the next day.
Learn how to make them using this recipe.
Grilled Fennel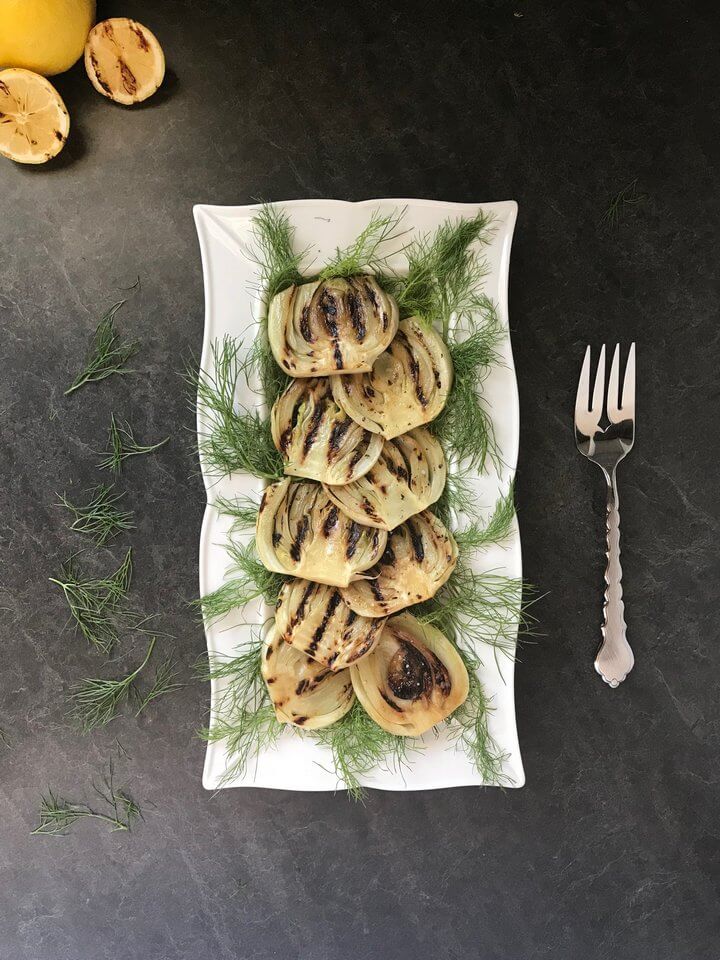 An often overlooked Mediterranean vegetable, fennel is full of vitamins.
It offers a bold licorice taste that will balance out the savory seasoning of the chicken and the sweet notes of the wine sauce.
Fennel can be grilled, braised, or shaved into thin strips and eaten raw in a salad for a pleasant and satisfying crunchy texture.
Caprese Salad
No cooking is necessary with Caprese salad, and it's the perfect side to bring together when you're already tired of cooking.
It uses just three ingredients fresh mozzarella, tomatoes, and basil leaves, so make sure you find the best quality possible.
Top the sliced cheese and tomatoes with a drizzle of olive oil, a sprinkling of black pepper, and a thin drizzle of balsamic reduction.
Serve alongside the chicken marsala or as a quick appetizer.
Spinach Salad with Pancetta and Candied Nuts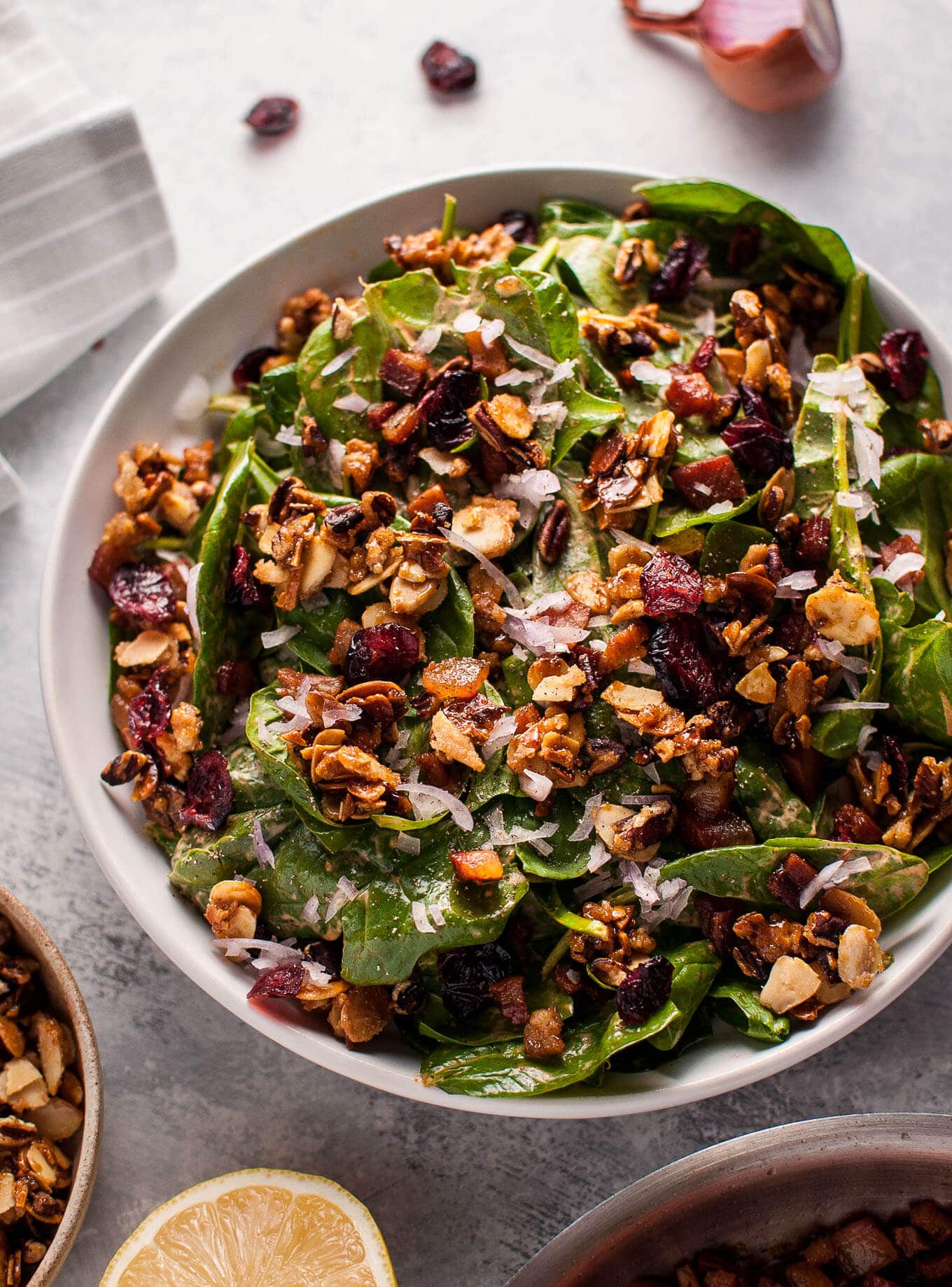 Another no-cook option is a spinach salad side. Fresh spinach provides crunch and is a tasty source of Vitamin K.
To keep it interesting, you can spruce it up by adding pancetta and candied nuts on top or add garlic and lemon to your spinach if you prefer.
Whether served in a separate dish on the side or allowed to wilt a little with the hot marsala sauce, it'll be delicious.
Green Beans with Almonds
Green beans are a staple for Thanksgiving and other holiday meals, but they can be at home as a side dish with chicken marsala as well.
Pair them with slivered almonds for texture, and remember not to cook them too long.
The key is to cook until al dente or until they still have a little bite left.
Here's how to make the perfect green beans with almonds.
Wrap Up
So there you have it, folks!
Now you have plenty of dishes to accompany your creamy chicken marsala for dinner tonight.
Did you like the list or use any of them for dinner this evening? Have we missed your favorite side dish?
Let us know how it went in the comments below!
If you liked this article, please don't forget to share it with family and friends!
Bon Appetit!