Salmon patties are a great main course option for your next dinner party.
However, the main course is nothing without a complementary side dish.
So the main question is: what to serve with salmon patties?
Don't worry – I've got your back.
In this article, I've gathered a bunch of side dishes that pair well with your salmon croquette.
There's something for everyone's taste – from sauces and salads to fried and baked foods.
Let's dive straight in!
Potato Salad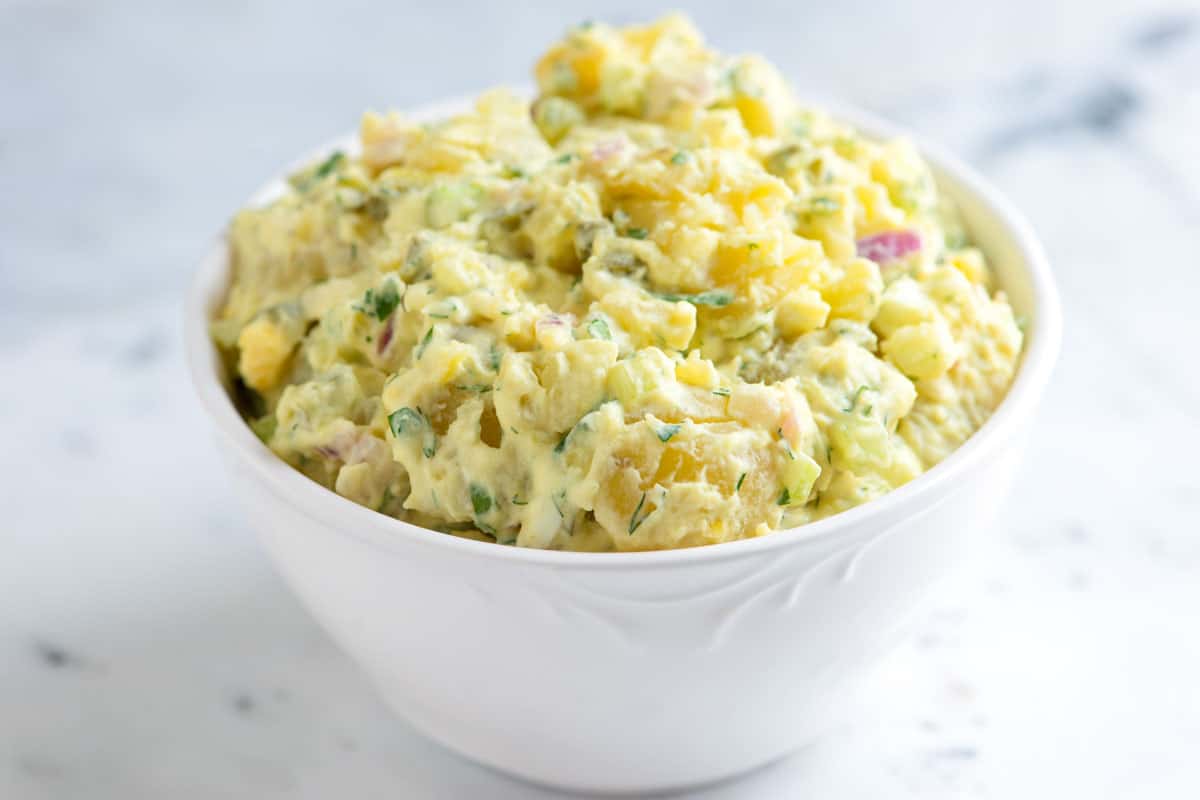 Potato salad is one of those side dishes that's easy to make and go well with just about any main course.
If you're short on time, you can make it up to three days in advance. After all, potato salad is best when served chilled.
Now, there are two things you can do to make it even better. First, always add a generous amount of salt to the cooking water, to bring out the flavor. And second, cook them whole, so they don't get waterlogged.
Here's how to make this salad.
Honey Garlic Butter Roasted Carrots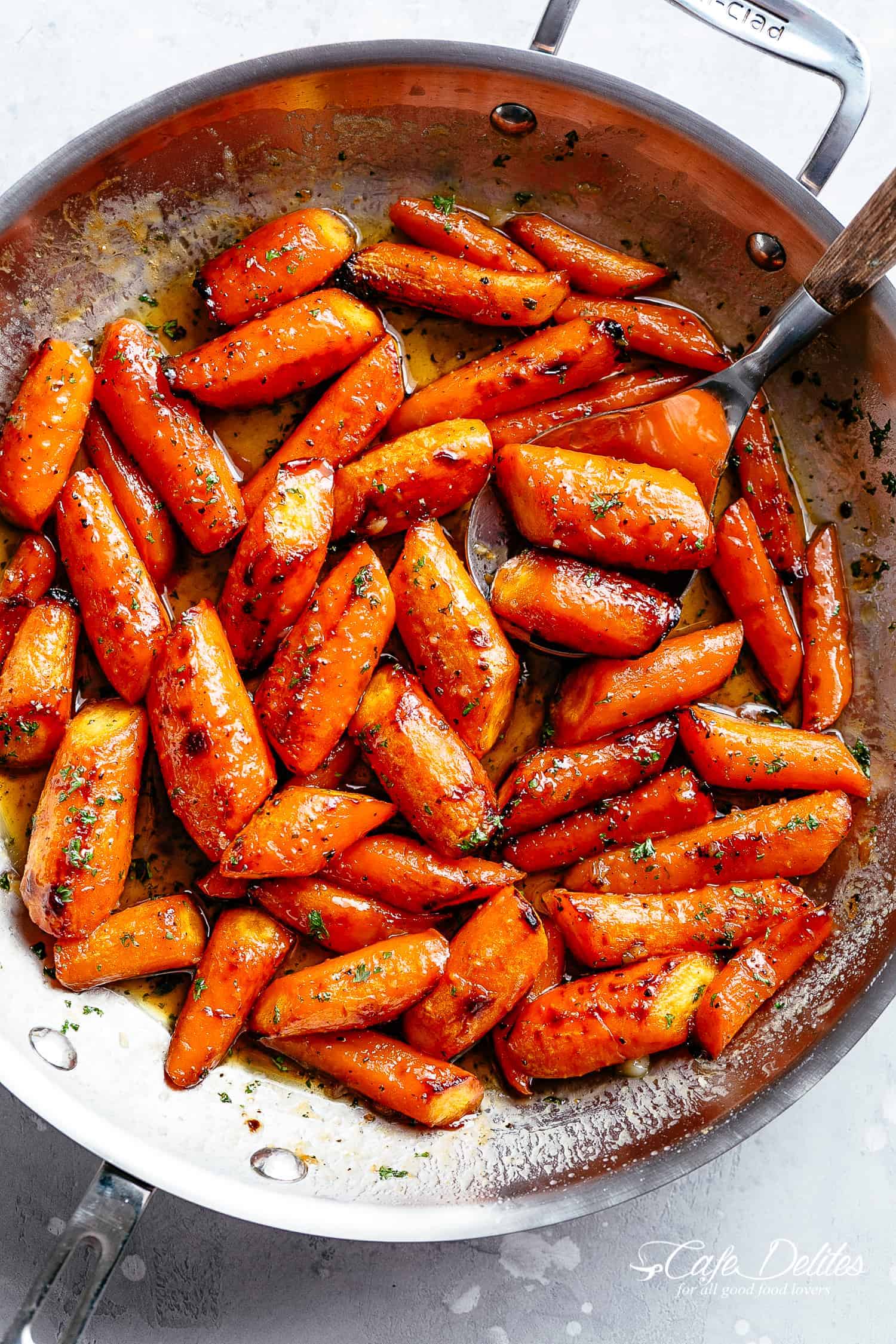 While the name of this recipe may make you think it's a complicated dish to make, it's quite the contrary. You just need a pound of carrots and a few standard pantry ingredients to season them.
Prep time takes no more than half an hour, and the recipe is pretty straightforward. The only thing you can do wrong is to make too little of this tasty side dish.
Here are the step-by-step instructions.
Asian Slaw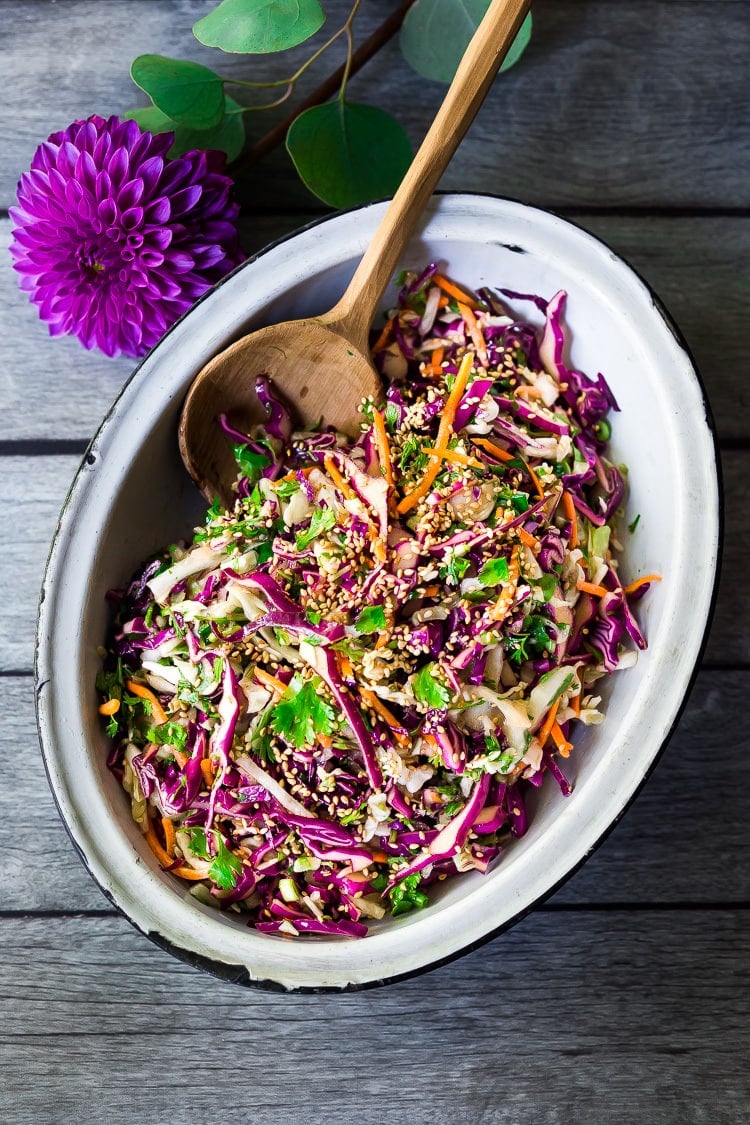 A classic Asian slaw goes so well with the main dish of a salmon patty, and it's a great way to add veggies to your dinner. But the best thing about this recipe is that you don't have to strictly stick to it.
You can replace any ingredient you don't like or have at hand easily (e.g. bell pepper). And if you'd like to add a bit of crunch to the slaw, roasted peanuts or cashews are a great addition.
Creamy Cheesy Spinach Rice
If you think rice is a boring side dish, then you haven't tried this recipe.
Cheese makes everything better, and this meal is no different. You can use any type of cheese you like, but sharp cheddar is one of the best options because it melts quickly and without any oiliness. A bit of grated pecorino Romano will add an earthy hint to your dish.
Italian Salad
A classic Italian salad offers a great mix of flavors and textures. It has lots of fresh veggies, sprinkled with a bit of parmesan and croutons. But the key to perfect salad lies in dressing.
Make sure to add olive oil gradually, so that it combines properly. Add one tablespoon at a time and whisk vigorously before pouring more. This is much easier to do in a large bowl that allows you more hand movement.
Garlic Roasted Brussels Sprouts
These tender brussels sprouts make for a great side dish to a salmon burger. And while they can taste funky when not prepared properly, you shouldn't be afraid to try this recipe.
The secret to perfect brussels sprouts is simple – buy them fresh, not frozen. Then, remove stems and outer leaves, as they're less flavorful than the inner part.
Here are step-by-step instructions.
Fresh Tomato Salad
Tomato salad is one of the simplest side dishes out there. There are no fancy ingredients, just some fresh tomatoes, onions, and a sprinkle of herbs.
Then, as the icing on the cake, we have bocconcini. It's a mild soft cheese that absorbs all the flavors. If you can't find it in the store, you can get feta cheese instead. Top it with a bit of red wine vinegar.
Here's how to make this salad.
Mediterranean Couscous Salad
This Mediterranean couscous salad is light yet it burst in flavors.
The best thing about it? It's insanely easy and quick to make.
If you've never cooked couscous before, don't worry. Just soak it in hot water for about five minutes – that's all. Then, let it cool before you add veggies and mix the ingredients together. Finish it by sprinkling a bit of lemon juice over.
Roasted Garlic Cauliflower
This is a side dish that requires only a few ingredients you already probably have in your pantry.
What makes it so delicious is the seasoning, and its star ingredient – minced garlic. Its pungency really helps to enhance the flavor of cauliflower. And while the dish is cooked in the oven, it only takes about half an hour to reach that beautiful golden brown color.
Here are step-by-step instructions.
Honey Butter Skillet Corn
If you're looking for a side dish that both kids and adults will enjoy, then you can't go wrong with corn. This recipe is sweet, creamy, and insanely delicious.
It only requires four ingredients: butter, honey, cream cheese, and, of course, corn. And since it cooks in a single skillet pan, that means you won't have a lot of dirty dishes to wash afterward.
Tartar Sauce
Tartar sauce has got to be the ultimate dip sauce for salmon burgers. But forget about store-bought tartar, because homemade sauce tastes ten times better. Plus, it's simple to make.
You can chop ingredients yourself to get some texture. But if you prefer a nicely blended sauce, then go with a food processor instead. Finalize the dish with a sprinkle of lemon juice.
Oven-Roasted Teriyaki-Glazed Sweet Potatoes
This sweet potato recipe strikes the perfect balance between savory and sweet. And that's what makes it an ideal side dish to salmon cakes.
The recipe is pretty straightforward. Just coat the sweet potatoes in sauce and let them bake. They should be tender, but not overdone. Stir them up a few times during cooking to prevent that. Sprinkle them with sesame to add a bit of crunch.
Avocado Strawberry Mango Salsa
Don't let the fresh, summery name of this dish fool you. This fruit salsa pairs well with all kinds of meals, including fish. It's sweet and savory at the same time, making a great contrast to your salmon cake.
The salsa is pretty simple to make. Just make sure you're using fruits that are not overly ripening. Otherwise, the salsa would be mushy and more like a sauce.
Garlic Sesame Lo Mein
Garlic sesame Lo Mein is a simple side dish that goes well with salmon burgers. Like most Asian dishes, it might look complicated, but that's far from reality.
You just need a single pan and 20 minutes of your time to make it. Just remember to soften the noodles in boiling water before mixing them with other ingredients.
Here are step-by-step instructions.
Blooming Onion
Onion is such a versatile veggie – take this side dish for example. It looks like a million bucks recipe, but it's quick and extremely easy to make.
You cut onions as flowers and then deep fry them in olive oil. The key to this yummy side dish lies in the milky dip. You have to coat the onions twice to get that crispy skin while keeping the onion tender and juicy.
Southern Fried Cabbage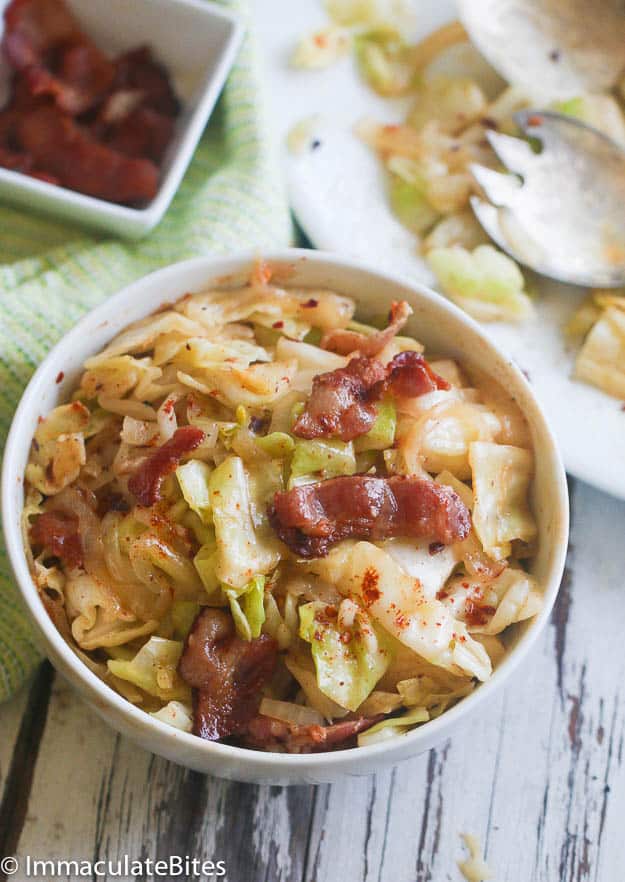 Although the name suggests it, the cabbage in this recipe is not fried.
Instead, it's cooked low and simmered in its own juices for about 10 minutes or so. But what makes it taste like fried is the bacon. Or rather, bacon drippings left in the pan. Scoop a few spoons out and pour it over cabbage once it's done. Then, to make it Southern, sprinkle some Creole seasoning.
Here are step-by-step instructions.
Sicilian Arancini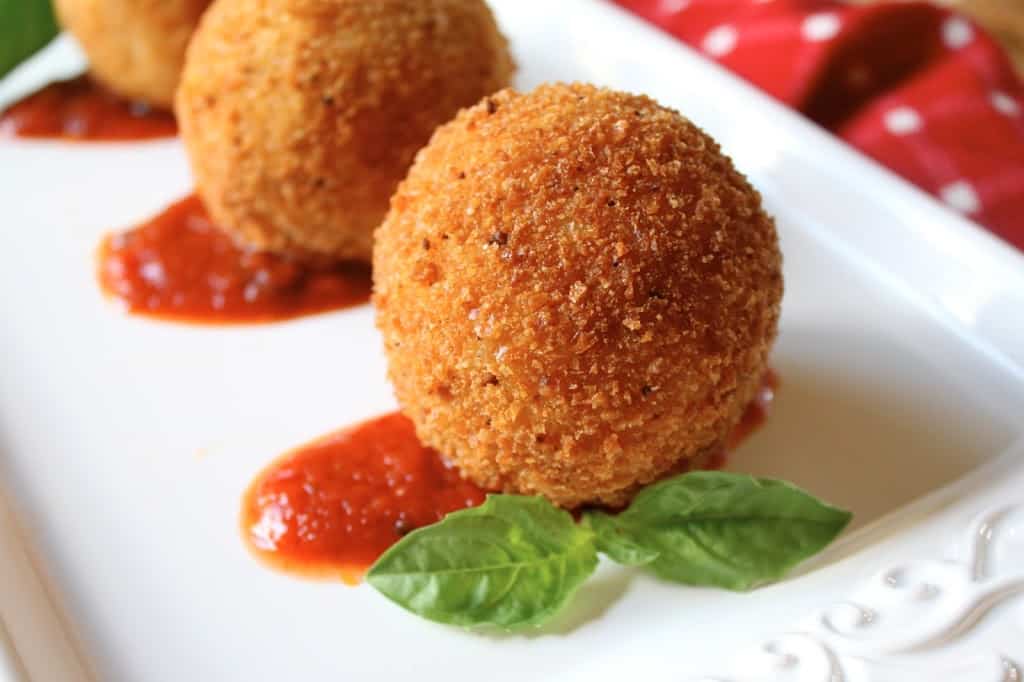 These rice balls are sold as snack foods in Sicily, but here in the States, we like them as a side dish. They're crunchy, full of flavor, and very easy to make.
There's just one catch. Don't use regular white rice, as it won't stick together. Instead, you want to use rice that's high in starch. Originally, the dish is made with arborio rice, but if you can't find it, sushi rice is a great alternative.
Final Thoughts
How do you like this list?
It includes a little bit of everything, from sauces to salads.
Some recipes might be a bit harder than others. But as long as you stick to our tips and trick, you can't go wrong.
If you like the article, share it and let others know the best salmon patty side dishes.
Related articles:
We are sorry that this post was not useful for you!
Let us improve this post!
Tell us how we can improve this post?